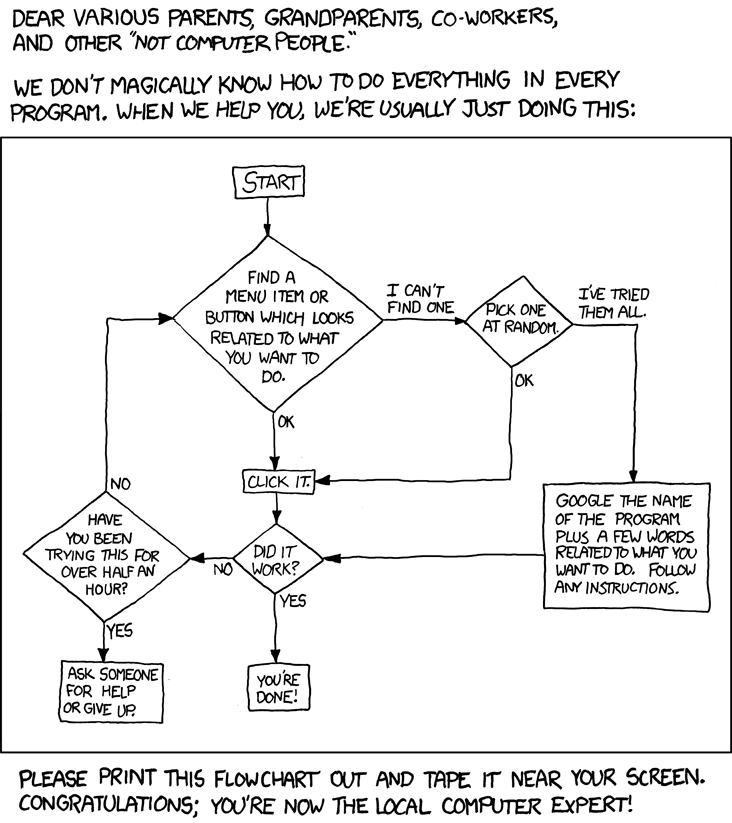 1. Screenshots – Taking a screenshot won't solve your problems, but it will make it much easier for your IT support to help you. Taking a screenshot of error messages or out-of-the-ordinary computer behavior can demonstrate what the problem is better than you will be able to explain.
2. Flowcharts – Like the flowchart above, there are basic flowcharts all over the web that can help you get to the bottom of almost any problem. One nice collection of flowcharts can be found here.
3. Help! – Actually using the help option offered on nearly every software application is a quick way to find the answers for which you are looking. The trick is to choose the right terminology. If at first your search turns up nothing, try simplifying your search or using synonyms.
4. Online Communities – There are online communities and discussion boards for nearly everything, especially hardware and software. Most of these discussion boards have either a search option or index of topics. Even if a search doesn't reveal the exact answer for which you are looking, posting your own comments and queries should drum up some helpful responses.
5. Social Media – Turning to social media outlets like Facebook, Google+, or Twitter can greatly increase your knowledge base. Someone else in your network has likely had a similar issue and probably knows a solution or at least can point you in the right direction for finding your own.
6. Turn it off. – When a computer is not responding or freezes up, just turn it off. While this is not a good habit to get into every time something goes awry, it is often the only solution. Typically, if your computer isn't already too far gone, a quick restart will correct the issue.
7. Share your troubleshooting strategies with your PLN. – Since your colleagues do similar work to you, they have probably also faced similar issues. With some luck, they may have even solved the same problem and can share what they did to fix it.
8. Ask your students. – Students can hold a wealth of knowledge when it comes to troubleshooting technological problems. They are more likely to explore and play with technology, discovering problems and solutions along the way. Empower them now and again to help you with your troubleshooting needs.
9. Read Lifehacker. – Lifehacker is a blog that looks at ways in which we can work around daily obstacles or hack our way through life. A large chunk of this content focuses on clearing obstacles with software and hardware. Making this blog part of your daily read will inspire all kinds of troubleshooting triumphs.
10. Google it! – Sometimes, we have no idea where to start with a troubleshooting process. In these cases, doing a quick internet search can provide a plethora of options. More than likely, the most popular solutions will be on the first page and that will be enough to help you solve your technological problems.
What troubleshooting strategies to you employ? Which of the strategies above have worked the best for you? What are some troubleshooting strategies that you would add to this list?
Zac Early is an instructional specialist and blogger for the eMINTS National Center.